Discover more from Cultivate Wellbeing
A co-working ecosystem for medical entrepreneurs.
March 21 | In-house IDEXX Analyzers
IDEXX analyzers come to Cultivate!
Same-day Diagnostic Options
The new IDEXX in-house analyzers have been installed at the Cultivate Wellbeing, Lafayette Waypoint!
The Cultivate in-house laboratory at the Lafayette Waypoint now includes an IDEXX chemistry analyzer, CBC reader, SNAP reader, microscope, and centrifuge.
Come out and learn how to use the new equipment! Members receive a in-house analyzer tests at a discounted cost + 25% rate.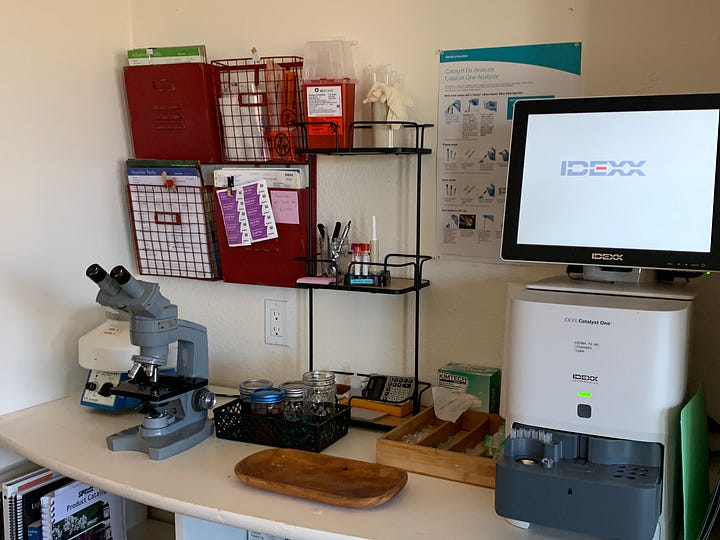 ---
Community Non-member Pricing
In-house diagnostics
Utilize our sample prep area (centrifuge, stain, cold storage) and in-house microscope for a per-use fee of $35.

Utilize our in-house Idexx diagnostic equipment for a standard non-member markup of 100%.
Send-out Reference Lab diagnostics
Submit a test to a diagnostic laboratory (e.g. Idexx Diagnostic Laboratory, Zoetis Diagnostic Laboratory) under our account, at standard non-member markup of 100%.

Or, use our sample prep area for a $35 per-use fee and submit the test under your own account
Please follow our Practitioner Appointment Scheduling Policy to schedule a time to utilize our in-house equipment.
---
Interested in being a member?
Cultivate members receive negotiated laboratory test pricing with a 25% markup, and are waived the $35 per-use fee for in-house equipment use.
If you are interested in joining as a member, please let us know!
Cultivate Wellbeing is a reader-supported publication. To receive new posts and support our work for our community, consider becoming a free subscriber.